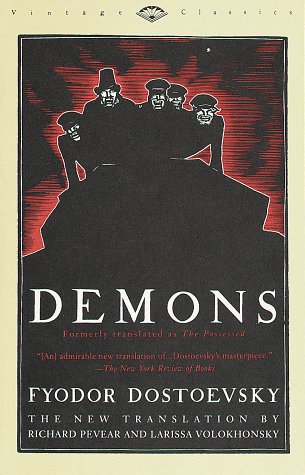 I'm a quarter of the way through Dostoevsky's Demons. AT 733 hard  bound pages (including footnotes) it's big, and it's heavy. And I just can't imagine reading it on my Kindle. Apparently there's a very good reason for this.
Smart technology does not necessarily lead to smarter people. In fact, digital readers are making it harder to take that deep dive into comprehension and engagement that print provides.
"Paper books were supposed to be dead by now. For years, information theorists, marketers, and early adopters have told us their demise was imminent. Ikea even redesigned a bookshelf to hold something other than books. Yet in a world of screen ubiquity, many people still prefer to do their serious reading on paper," writes Brandon Keim in Wired.
"Count me among them. When I need to read deeply—when I want to lose myself in a story or an intellectual journey, when focus and comprehension are paramount—I still turn to paper. Something just feels fundamentally richer about reading on it. And researchers are starting to think there's something to this feeling," says Keim.
Keim cites several recent studies on the differences between comprehension in digital vs print, including one piece in the Washington Post that asserts that digital may be dumbing down our literary abilities.
And it's not just the older folks who don't want to adapt to new technology either; college students still vastly prefer printed text books to the much cheaper (and easier to lug to class) ebook versions. It's a good thing too, because research also shows that students learn better reading from paper.
"Wästlund followed up that study with one designed to investigate screen reading dynamics in more detail. He presented students with a variety of on-screen document formats," writes Keim. "The most influential factor, he found, was whether they could see pages in their entirety. When they had to scroll, their performance suffered."
Apparently, scrolling has a huge effect on concentration and comprehension.
"Like being distracted when memorizing a phone number, scrolling's interruptions knocked information from short-term memory. That's the basic level of information processing, laying a foundation for long-term memories and knowledge," notes Keim.
Ultimately, it may simply come down to the age-old mantra of the right medium for the message.
"Maybe it's time to start thinking of paper and screens another way: not as an old technology and its inevitable replacement, but as different and complementary interfaces, each stimulating particular modes of thinking," Keim suggests. "Maybe paper is a technology uniquely suited for imbibing novels and essays and complex narratives, just as screens are for browsing and scanning."