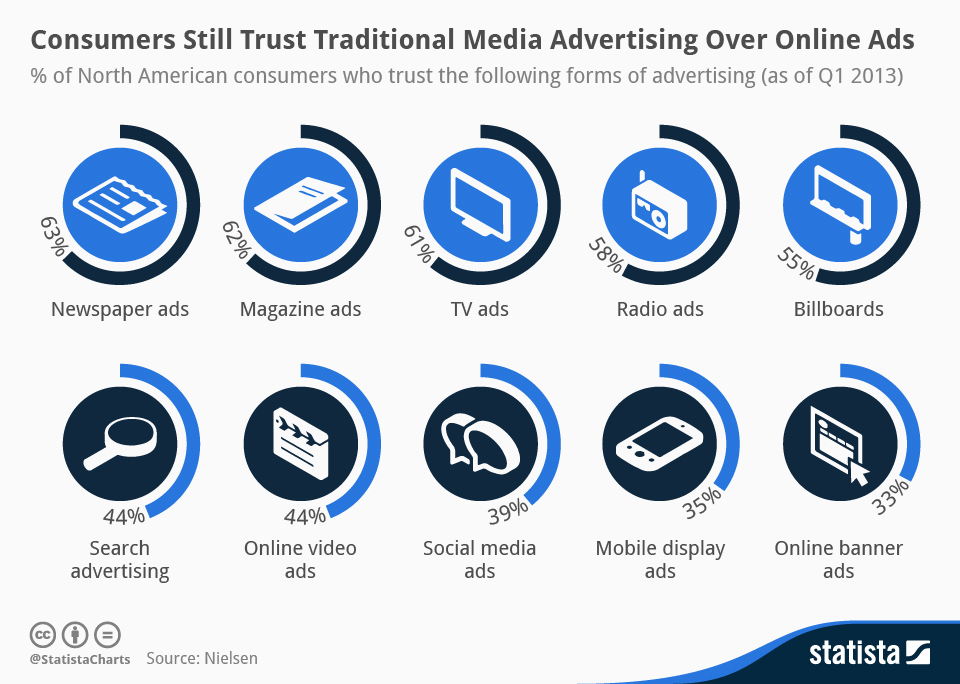 When it comes to consumer confidence and trust in advertising, traditional media like newspapers, magazines and TV have the advantage over digital.
According to the well-respected  Global Trust in Advertising and Brand Messaging from Nielsen Research, "…63% of [North Americans] polled say they trust newspaper ads the most — slightly edging out magazine ads (62%) and TV commercials (61%)."
This is solid confirmation for print publishers that their medium is still going strong and continues to garner the faith and confidence of its readership.
As Print in the Mix points out, digital has made some gains, but continues to lag behind print and broadcast. The report states that emails are also gaining trust, and even search engine ads are trusted by almost half of the respondents.
Some of this gain in the digital environment is likely due to better targeting and most sophisticated algorithms that put the right message in the place at the right time in front of the right reader. This is one of the keys to successful marketing, and something traditional advertisers and publishers need to note.
Not surprisingly, "unpaid or earned advertising remains top in overall trust with consumers; personal recommendations (word of mouth) and online consumer reviews are considered trustworthy by 82% and 68% of North American respondents, respectively."
Trust is the commodity in which we trade. Earning, deserving and keeping our customers trust is our biggest responsibility and our greatest privilege.