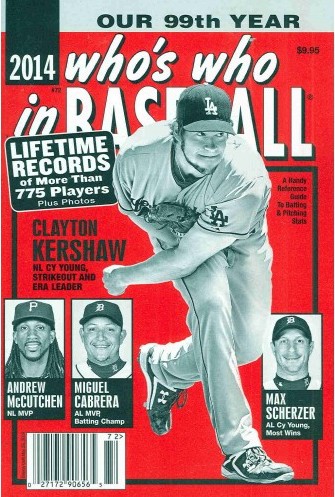 It's here; that time of year when everyone's team has a clean slate and hope for the season springs up like the first tulips through the grungy remains of the snow banks. And along with the new season is the new issue of Who's Who in Baseball.
Printed for nearly 100 years, this legendary publication has built itself into a must-own for anyone serious about the game. And its cover, with its graphic red and black colors and retro look, makes it easy to spot at the newsstand, says Robert Newman as he waxes nostalgic.
"I've been aware of the strong affinity baseball fans have for this little publication, and how it evokes both a passionate love for the game and the heart-tugs of nostalgia," writes Newman, a former employee of the magazine's publisher, Harris Publications.
"There are a lot of lessons here for small (and not-so-small) publications that are looking to develop a consistent graphic brand on a limited budget. One could describe this cover as retro, or a more critical analysis might call it old fashioned. Still, I think it's brilliant and I never get tired of looking at it (they got my $9.95, I might add!)."
Still, perhaps it could use a bit of a facelift?
"A little more playfulness, a diversity of graphic elements and a small nod to the 21st Century might not be a bad thing for this cover," Newman suggests.
Hard to say. When you have an iconic and unmistakable brand, maybe it's best not to mess with it too much. Think of the Coca-Cola bottle, or the Mercedes logo. Like the bible of baseball, apple pie and Cracker Jacks, you don't want to journey too far from your roots.