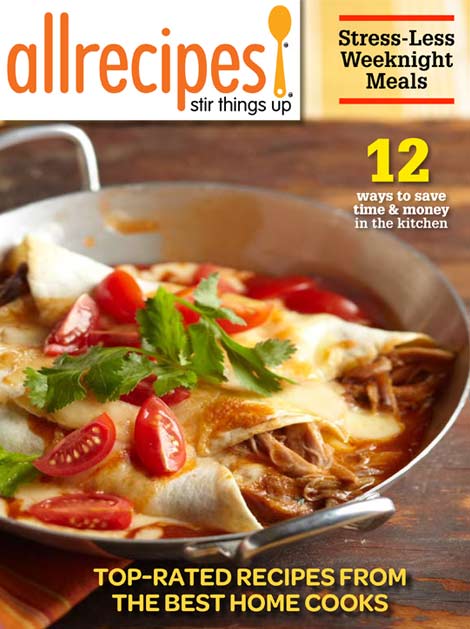 Now for some mouth-watering news from the publishing world: Meredith Corp, parent company of the highly popular recipe site AllRecipes.com, is about to launch a print magazine!
Meredith's Chairman and CEO Stephen Lacy was interviewed by BloombergTV and explained why he feels his readers will pay for printed content they can get online for free.
According to Lacy, the main difference between the magazine and the website is the way in which content will be curated and presented. The magazine's format will offer new inspiration and information to their audience that's not possible in their current digital format.
"Most of our readers search for a recipe online that they already know they want to prepare," explains Lacy. "But what you'll find in the magazine are ideas and inspiration that maybe you hadn't thought of in the past."
The interview points out that the Web is great for taking action when you know what you want (e.g. Amazon, where a visitor goes to buy something in particular and has a good idea in advance what they want.) Print, according to Lacy, is good for discovery or inspiration, a place to find new ideas that might never have occurred to the reader.
When asked if he believes there will be adequate advertiser support for a new cooking or recipe publication, Lacy is adamantly positive.
"Food is our largest ad category," he says, citing the solid existing relationships the digital site has with its current food advertisers. "And they are extremely excited about All Recipes and our audience. But we're only able to reach it a digital format historically. So this extension makes sense to advertisers as well."
Reaching their audience in a new printed format is something we applaud, and we wish Meredith Corp. all the best in their new launch. Watch the entire interview here and learn why print magazines can still make publishers' (and their advertisers') mouths water!