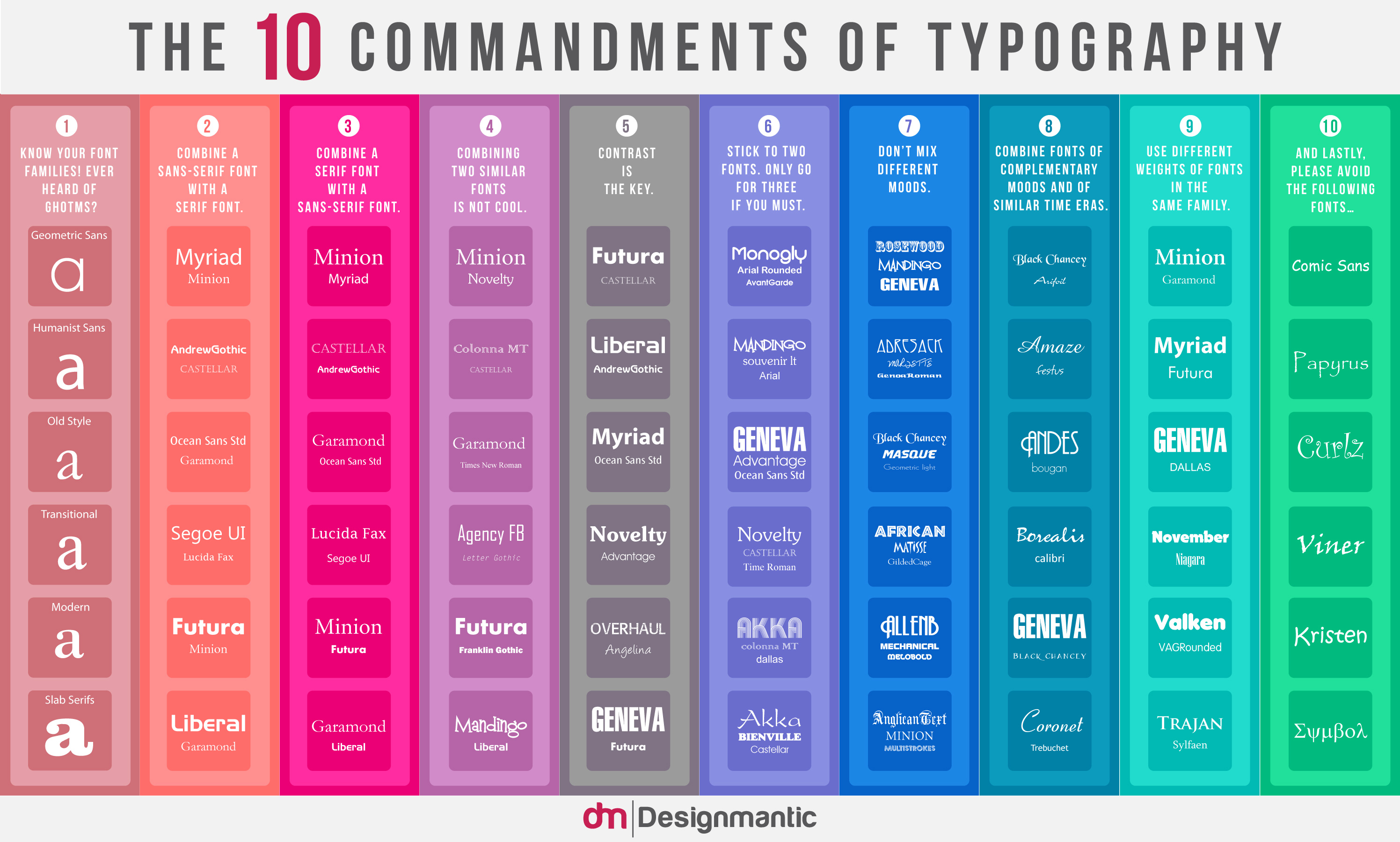 For designers, the choice of font is a critical element in each project. And with so many options available, it's easy to lose track of the basics of good type design and get carried away. Especially when you have a client saying things like "Can't you use something a little fancier?"
Still, the basics of good design must be remembered in everything we do. That's why we really appreciate the info graphic "The Ten Commandments of Typography" from Evan Brown of DesignMantic.
"The beauty of typography lies in its endless options, convenient variations and its colossal nature and that typography knows no boundaries and it's like yet another galaxy out there waiting to be explored and known," Brown notes, rather poetically.
"Even though typography is an art and art is supposed to be subjective with minimal parameters, these rules can still be applied in order to save time and too much experimentation," Brown urges.
So what are the 10 Commandments of good typography? According to Brown:
Know your font families, based on the GHOTMS acronym.
Combine a sans-serif font with a serif font.
Combine a serif font with a sans-serif. (Yes, 2 and 3 could have been combined, but where's the fun in Nine Commandments?)
Don't combine two very similar fonts.
Make sure there is enough contrast between your fonts. (Again, could have been combined with 4 but …)
Stick to two fonts. Only go to three if absolutely necessary.
Don't mix different moods (nobody likes to be confused).
Combine fonts of similar moods and time eras (avoid Modern and Traditional mixes).
Use different weights for each font in the same family.
And finally, avoid using Comic Sans, Papyrus, Curlz, Viner, Kirsten, and one type we can't even begin to translate into our keyboard. Really, just don't.
Print out this infographic and distribute liberally at your next creative meeting. The project you save could be your own!