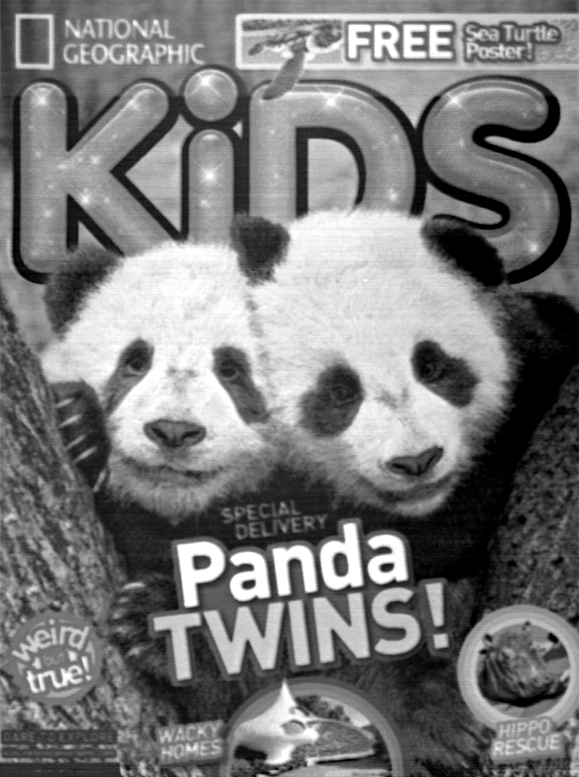 What's black and white and can't be read by the naked eye?
The nanoscale version of the cover of National Geographic Kids, created for last month's U.S. National Science and Engineering Festival in Washington, DC. Logging in at 11 by 14 thousandths of a millimeter, the cover is far too small to be viewed without microscopic help.
According to Phillip Ball of The Guardian, "The Guinness Book of Records confirmed that this is the smallest magazine cover in the world. It has been carved out of a lump of plastic using a silicon needle 100,000 times sharper than the sharpest pencil tip. The contrast of the image reflects the topography of the surface: the higher it is, the lighter it appears."
The image used was chosen by a reader's poll —  no big surprise here — twin baby pandas won the beauty contest.
Aside from the novelty aspect, Ball notes that the technology could have practical and commercial use.
"It could be used to add security tags to artworks, passports and personalised Swiss watches that would be virtually impossible to forge," he notes.  "Some companies have already used nanopatterning methods to write the entire Bible on a crucifix for especially devout customers, and even to engrave tiny patterns on the surface of chocolate that scatter light to create different colours."
The technique sprang from the minds of the IBM research team in Zurich and has been in development for about five years, Ball notes.
"The needle, attached to a bendy silicon strip that scans across the sample surface, is electrically heated so that when it is brought close to the specially developed plastic, the material evaporates. In this way the researchers can remove blobs of material just five nanometres (millionths of a millimetre) across, paring away the surface pixel by pixel like a milling machine," he says.
Perhaps we are getting closer to answering that age old question of how many pandas…er angels…can dance on the head of pin.