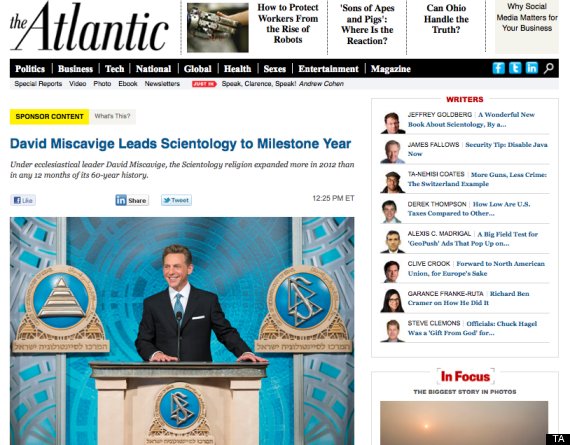 Advertorial is a fancy term for the combination of advertising and editorial content. It's advertising that acts similar to its cousin, the chameleon, and blends in with its surroundings whether in print or digital media. The term has been discussed excessively as of late, due to a Church of Scientology advertorial posted on The Atlantic's website (theatlantic.com) January 14. The ad took a lot of heat, despite being labeled as a sponsored post.
The Atlantic issued an apologetic statement about the offensive online advertorial saying, "We screwed up. It shouldn't have taken a wave of constructive criticism–but it has–to alert us that we've made a mistake, possibly several mistakes. We now realize that as we explored new forms of digital advertising, we failed to update the policies that must govern the decisions we make along the way. It's safe to say that we are thinking a lot more about these policies after running this ad than we did beforehand. In the meantime, we have decided to withdraw the ad until we figure all of this out. We remain committed to and enthusiastic about innovation in digital advertising, but acknowledge–sheepishly–that we got ahead of ourselves. We are sorry, and we're working very hard to put things right."
As native advertising continues to emerge in print and online, advertisers and publications need to figure out how best to distinguish advertorials from actual editorial content while at the same time creating interest for their product or service. Included below are a few tips to help you create better (and more effective) advertorials for both print and digital media outlets.
1. A good advertorial is an advertorial designed to blend in with the newspaper or magazine content on surrounding pages. The more you are able to mimic the style and format of the publication's articles, the better. The primary goal of an advertorial is to grab the reader's attention and call them to action, while educating them on a topic related to the product or service being advertised (though it should be explicitly stated so as not to repeat The Atlantic/Church of Scientology scandal).
Read the full article here: http://web.mediaspacesolutions.com/blog/bid/172593/How-to-Create-an-Effective-Advertorial-Regardless-of-Media-Outlet