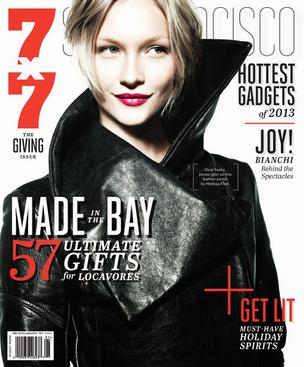 "People keep telling me what a 'bold' move it was to buy a magazine. Bold is polite for crazy. But it feels right," says Chloe Harris, new owner of SF-based 7×7.
Harris, initially hired as an associate editor for the lifestyle magazine back in 2004, has returned to the company, not just as its owner but as acting president and editor-in-chief.
Harris was interviewed by Kristen Phillipkoski for Racked, and shares her vision for a publishing company that "brings our readers the best life you can live in San Francisco." And she's doing it with no small amount of flair, and a continued focus on print as the cornerstone of their business.
"I've wanted to run my own magazine for about as long as I can remember—I think it was my way of combining my love of storytelling with a need to curate my life around all the creative people and cool stuff I love," she tells Phillipkoski.
That combination has been gold for 7×7, a powerful and popular lifestyle brand in the Bay Area.
"For the past two years, we've worked to elevate our print magazine to a new height of quality and, as a result, readership and revenue are up—we had a record-breaking first quarter," Harris says. Now they are combining their success in print and their rapid growth in digital with a foray into public events, like the 7×7 Big Eat Live! in July.
"We are investing heavily in the brand right now. So, not only will we be the best San Francisco regional publication, we will be the lifestyle brand for the SF Bay Area," Harris continues.
Harris claims that the time she spent with Zimbio's Style Bistro title was invaluable in helping her understand the differences between success in print and success online.
"StyleBistro was an eye opener," she says. "We had more engineers on staff than editors, and SEO data drove content. It worked—we climbed to the top 10 among fashion websites in just two years, leaving the Vogues of the internet in the dust."
Still, she found herself longing to return to her content roots.
"Ultimately, I craved more editorial integrity," Harris continues, "but I learned a thing or two about how to succeed online. What works in print doesn't work on the web. Reader behavior is different. Now I have the best of both worlds: fun and relevant curated content, and the tools to do the geeky stuff like SEO and competitive analysis."
Its sounds like a potent combination, and a possible model for other regional and lifestyle publications to emulate. We wish her all the best.