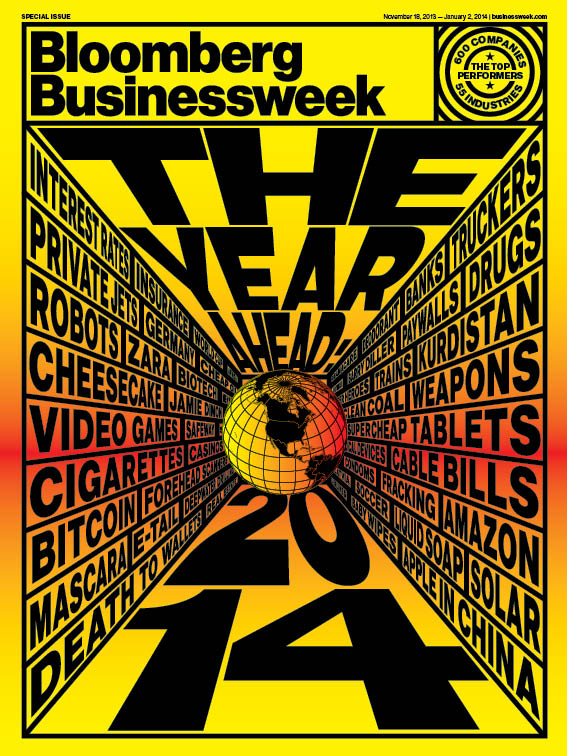 Bloomberg's not messing around. With their November 18 issue of Businessweek, the multi-media publisher also launched its "The Year Ahead" campaign.
The massive edition – at 212 pages, more than half of which feature advertising – is the company's largest since 1999, and features a perfect bound spine designed to provide a lasting resource for readers.
According to Folio's Arti Patel, "The issue is part of parent company Bloomberg's 'The Year Ahead' global media franchise, which includes an interactive digital leaderboard, new content for the magazine, Web and Bloomberg TV, as well as an international conference of CEOs in Chicago hosted in conjunction with Mayor Rahm Emanuel."
The issue is scheduled to run for seven weeks, as a centerpiece to the publisher's initiative to "arm CEOS and their leadership teams with the forward-looking insight they need to shape their businesses in the year to come," according to a company press release.
It's a bold and confident move for a weekly magazine, and one that makes perfect sense if you look at the mindset of the typical Businessweek reader, according to publisher Hugh Wiley.
"Businessweek has always been about preparing the reader for the week ahead, so taking an issue that looks at the year ahead in an industry format was very much on brand for us," says Wiley.
Of those 111 pages of advertising, fully 45% are new advertisers in the magazine, says Wiley, who stresses that many of them have purchased ads beyond this issue, not just as one-offs.
It will be interesting to see what kind of momentum Bloomberg can leverage from this massive issue. And it's great to see strategic use of print media designed to reach the C-suites across industries.