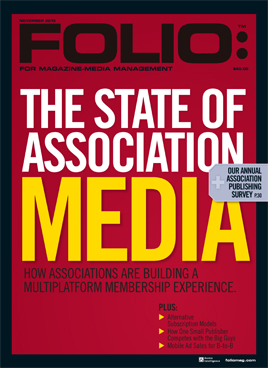 "Publishing is constantly changing, and we shouldn't be at each other's throats; we should be helping each other understand the best ways to navigate. A rising tide lifts all boats and all that."
Katelyn Belyus of The Nation has a point. In a recent article in Folio, Belyus gives a review (perhaps a rant) of the current state of the fulfillment industry, and raises some salient points.
Her prediction is clear: Smaller tech-savvy players will eat the lunches of the bigger FSBs if tech advances aren't adopted quickly by the old school bureaus.
Belyus is quick to point out that the big FSBs do a great job at the regular stuff they were hired to do: "They manage your renewal and billing schedules, your subscriber database, your banking deposits, your efforts, your customer service, and in some cases, hosting your webpages and transactional emails."
Where they fall down is in their approach to big data, which is beyond the scope of the traditional FSB database systems. Smaller, nimbler bureaus have an advantage there, and the larger FSBs would be wise to start looking at best practices and common ground instead of keeping their process information so tightly held.
According to Belyus, "Increasingly, as mail volumes continue to ebb and flow, and processes become more mechanized, publishers need relational databases. The whole reason we've become obsessed with Big Data is not because it's a new thing to want; it's because it's been such a pain to get. Everyone's information is available online—Facebook, Apple, Amazon, Twitter. …It's no surprise that publishers want—and expect—to be in on the action. But Big Data isn't worth anything if we can't use it in concert with our own subscriber database."
It's those tech-smart smaller players that have the ability to do this, smoothly integrating big data with in-house lists. So why aren't the bigger titles moving to them?
Belyus says "…the onus really lies with the publishers to trust a smaller FSB. The publisher has to weigh the merit of industry experience against the perceived demerits of a smaller operation: which is worth more?"
While it's possible for the big bureaus to adapt their systems and amend their processes, they better do it fast, because data won't wait and the business models demand it.
Belyus continues, "The big FSBs need to change fast if they want to stay viable, because the first time a big publisher moves from a large FSB to a small one, an exodus will follow."